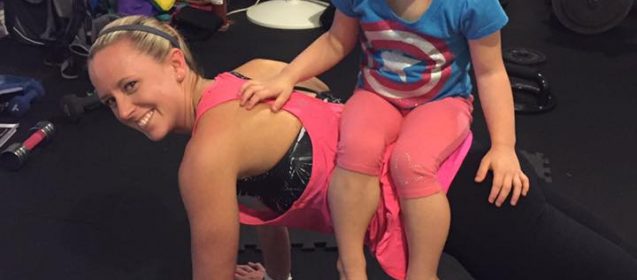 With a full time job as a surgical assistant and a full time mom to a busy three-year-old, is it even possible workout five days a week?!?
The short answer – YES!!
Thanks to Bikini Body University, Nicole is not only getting effective, fun workouts that she can do at home, but also getting RESULTS! While losing weight wasn't her goal, Nicole has dropped 6 inches and is carving out an impressive back and core.
Before joining BBU, Nicole was already starting off her mornings with a workout, but she wasn't seeing the progress she wanted.
"It was the diet that always would side track my progress," she says. "It still does sometimes, but I like the best, better, good rule: You can't always be your best 100% of the time, but you can always strive for better."
Nicole needed something to help her stay focused on her goals. BBU was her solution.
The motivation and support from other members was just what she needed to keep her nutrition on track. However, Nicole had one apprehension before she joined BBU. She hadn't exhausted every other diet out there; she didn't think the program couldn't work for her; she didn't lack the drive to put in the work. Her only concern: cost. There are tons of $10 gyms out there – was this program really worth it? The results speak for themselves! Six inches, gone! (I mean, check out her transformation pictures!) Toned arms, back, and core, nutrition guidance, support from a REAL LIVE COACH, and everything can be done at home in about 30 minutes?! The short answer – YES!
Since then, she has made BBU fit her schedule; whether it's three or five days a week, fitting her workouts in when it's convenient for her.
"The workouts are short and effective. "
Nicole also appreciates that the workouts can be done in the convenience of her own home. When it comes to volume of workouts, Nicole explains,
"It's a minimum of three, but up to 5 days a week. [The coaches] teach you to do even just 10 minutes here and there throughout the day, just so long as you can comment done for the day, to ensure you stay on track."
Nicole recommends BBU not only for the convenience and quality of the workouts, but the motivation from her coaches and teammates, too.
"The support here is above and beyond anything I have ever seen. Everyone in this group has a positive and encouraging way about them,"
says Nicole. In terms of the cost, BBU rewards members for bringing friends to join the team!
"If you bring friends into the BBU family, you can receive a referral credit too,"
Wouldn't you like to get rewarded for helping others achieve their personal best?? It's a win-win! Who would've thought you can hire a COACH for less than a cup of coffee a day?
Congratulations Nicole on creating the Body & Life of your Dreams in LESS time! We are proud to Guide and Coach you through BBU!